Sequencing Through Time & Place: The Carissa Mine presents a contemporary response to place through works that explore the physical, historical and cultural aspects of the historic Wyoming Carissa Gold Mine through photography, dance and movement (video and performance), and mixed media. The mixed media pieces depicted here are exhibited with photographs by Susan Moldenhauer, and dance performance and videos by Margaret Wilson.
Together Bredehoft, Moldenhauer and Wilson form the artists' team Sequencing Through Time & Place, that creates place-based artwork through their individual creative lenses, and collaborative, interdisciplinary practice.
For more background information on this project click:  CarissaMine-brochure-layout-FINAL-LAC.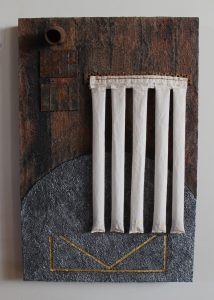 Filtered, 2018, muslin, burlap, wood, pumice, iron, gold leaf, acrylic, 30 x 20 inches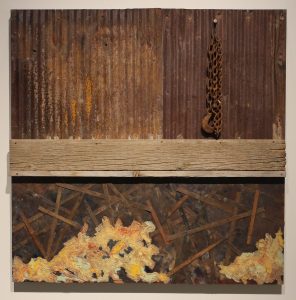 Juxtapositions, 2018, wood, tin, found objects, acrylic, 48 x 48 inches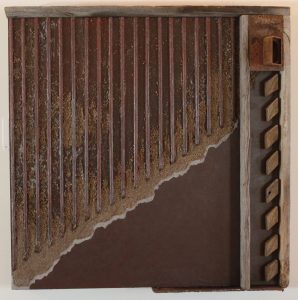 Float, 2018, wood, iron, sand, pumice, acrylic, 30 x 30 inches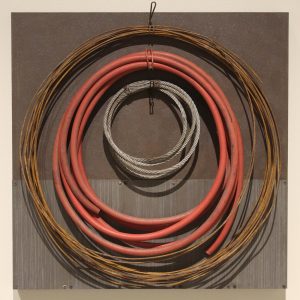 Coiled, 2018, cable, tubing, wire, tin, wood acrylic, 30 x 30 inches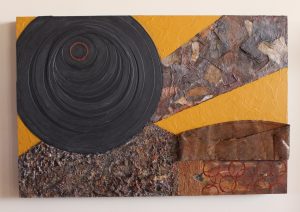 Rattle and Roll, 2018, paper, tin, gravel & sand, burlap, acrylic, wood panel, 20 x 30 inches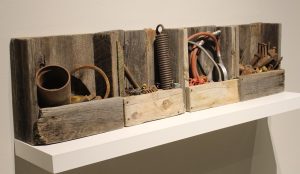 Treasures, 2018, reclaimed wood, found objects, graphite,12 x 48 x 4 inches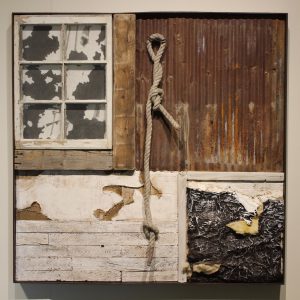 Storied, 2018, wood, tin, newsprint, cardboard, canvas, insulation, found objects, graphite, acrylic, 48 x 48 inches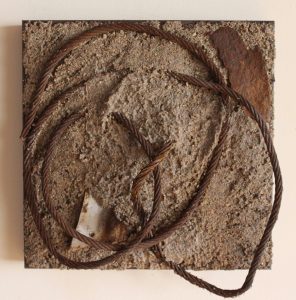 Remnants 1, 2018, wood, sand, gravel, found objects, acrylic, 10 x 10 inches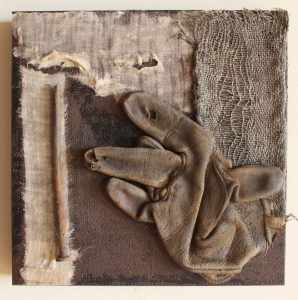 Remnants 2, 2018, wood, bulap, linen, found objects, acrylic, 10 x 10 inches copy 2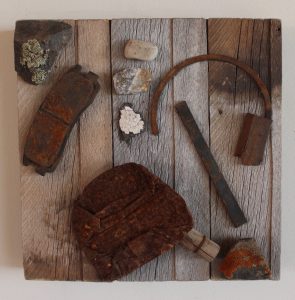 Remnants 3, 2018, wood, found objects, 10 x 10 inches
Remnants 4, 2018, wood, canvas, found objects, acrylic, 10 x 10 inches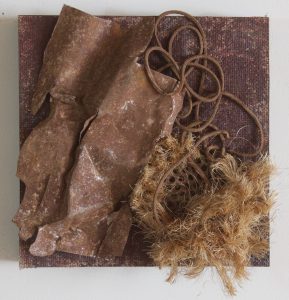 Remnants 5, 2018, wood, burlap, found objects, sisal, acrylic, 10 x 10 inches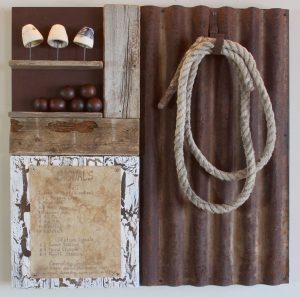 Instrumental, 2018, reclaimed wood, tin, canvas, rope, air dry clay, acrylic, 30 x 30 inches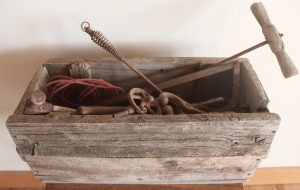 Construct, 2018, reclaimed wood, found objects, graphite, 14 x 21 x 8 inches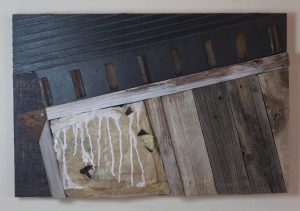 Syncopation, 2018, wood, iron, burlap, insulation, acrylic, 20 x 30 inches

Carissa's Song, 2018, wood, metal, linen, burlap, paper, wire, acrylic, 20 x 60 inches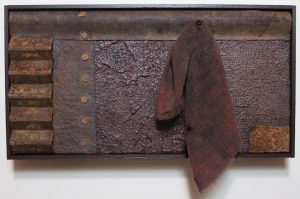 Holdin' It Together, 2018, metal, wood, burlap, acrylic, sand, found object, 10 x 20 inches